deutsche Version
News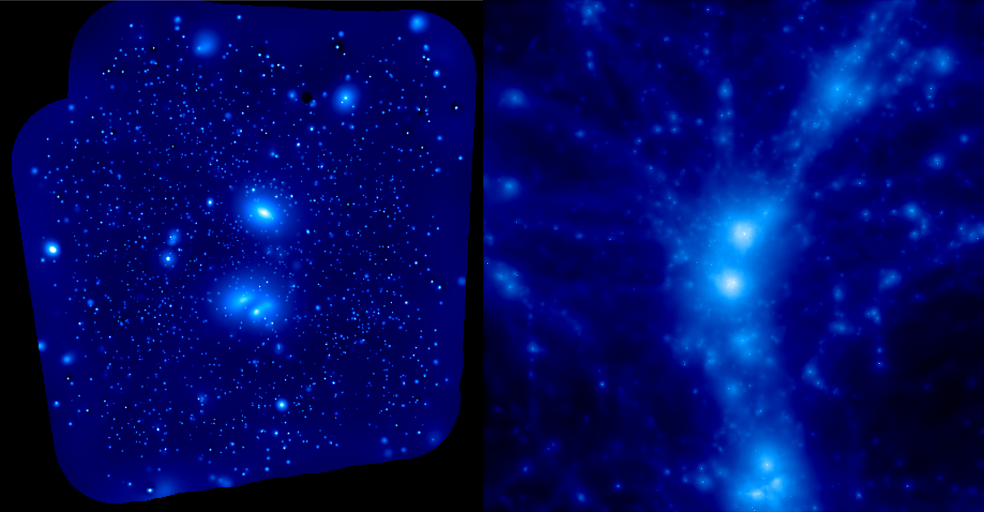 More than half of the matter in our Universe has so far eluded our view. Astrophysicists have predicted, however, where it might be: in so-called filaments, unimaginably long structures made of hot gas that surround and connect galaxies and galaxy clusters. These filaments of hot gas in the computer simulations by Dr. Veronica Biffi and PD Dr. Klaus Dolag at the University Observatory Munich and the ORIGINS Cluster of Excellence are strikingly similar in their structure to the 50 million light years long filament which has now been observed for the first time by a team led by the University of Bonn using the eROSITA space telescope. While these observations confirm the models of the origin and development of our Universe, the simulations allow an interpretation of the results that recently appeared in the journal Astronomy & Astrophysics, shedding new light on the origin of these structures.
---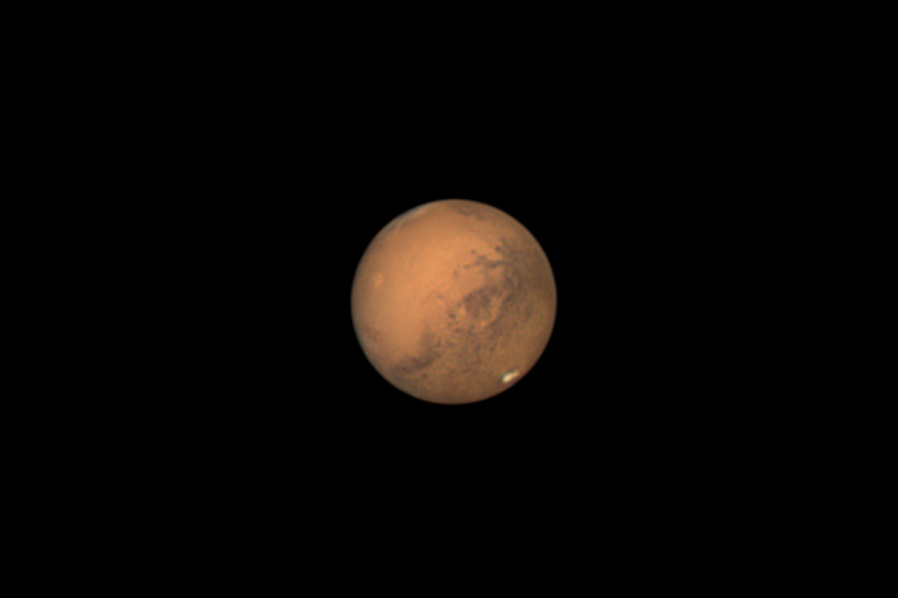 Diese Aufnahme zeigt unseren Nachbarplaneten Mars in der Nacht vom 19. auf den 20. Oktober 2020, beobachtet mit dem historischen 28,5-cm-Fraunhofer-Refraktor (Baujahr 1835) vom Garten der Universitäts-Sternwarte in München aus. Der Achromat mit Fraunhofer-Objektiv ermöglicht beeindruckende Farbbilder von Planeten mitten in der Großstadt.
Felix Langgaßner (Bachelorstudent) machte diese Aufnahme 6 Tage nach Marsopposition (13. 10. 2020).
Der Mars hat auf dieser Aufnahme eine Entfernung von 64 Millionen km und einen scheinbaren Durchmesser von 22 Bogensekunden. Neben Solis Lacus (dem großen "Auge des Mars" in der Mitte etwas rechts) und Ausläufern des Valles Marineris (dunkler darüberliegender "Zweig" im oberen rechten Drittel) ist auch der Olympus Mons (26.000 m hoch, Durchmesser 600 km) gut zu erkennen inmitten des schwachen weißen Flecks mit dunklerem Zentrum (bei 10 Uhr nahe des Marsrandes).
Mit der Farbkamera ZWO ASI 224MC zeichnete Felix Langgaßner 17.771 Bilder mit je 1/57 sec Belichtungszeit auf, um danach die besten 30% mit "Autostakkert" zu kombinieren und mit "RegiStax" nachzuschärfen.