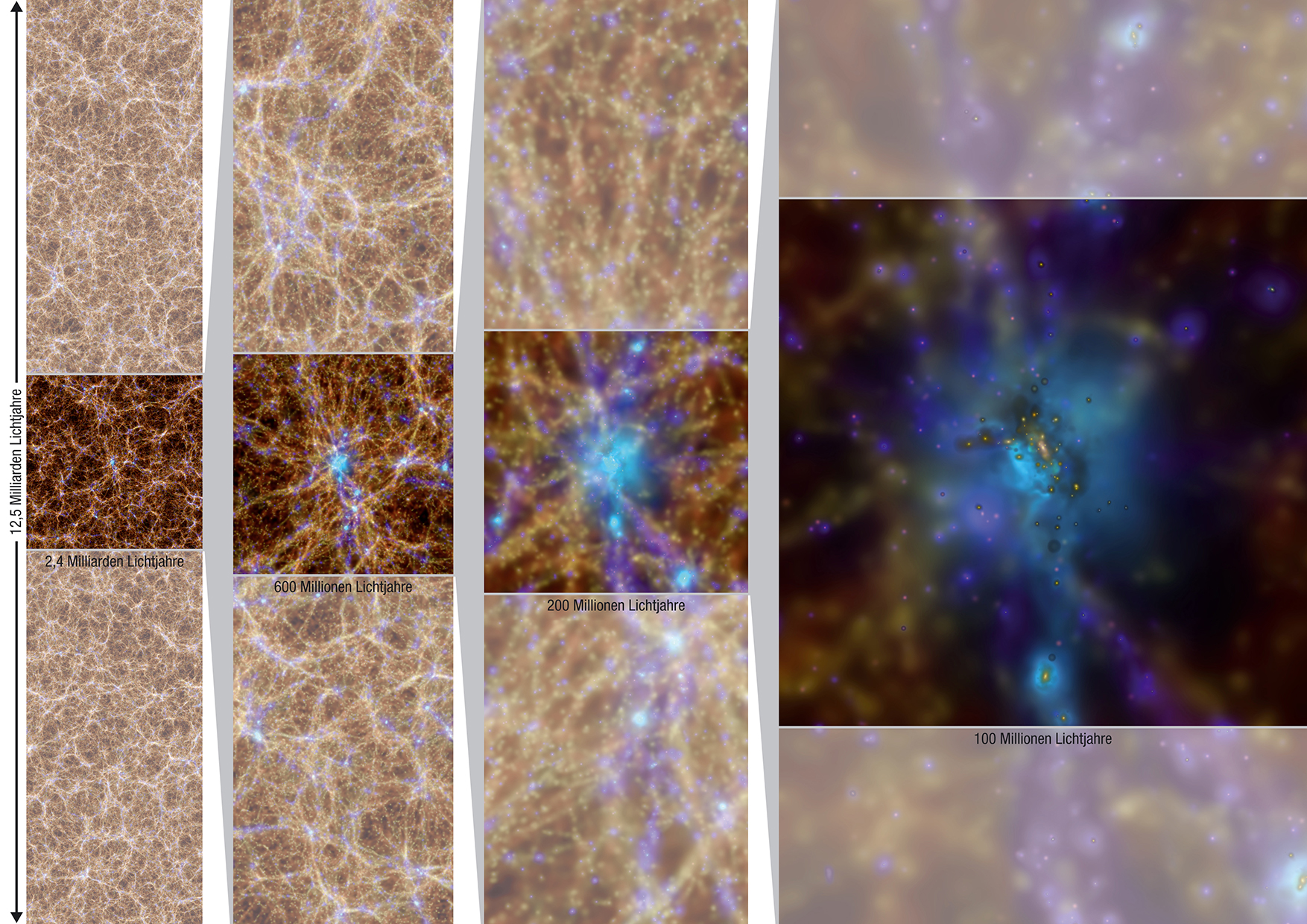 by Klaus Dolag
In cooperation with experts of the Excellence Cluster Universe's datacentre C2PAP and of the Leibniz Supercomputing Centre, the world's most elaborated cosmological simulation of the evolution of our universe was accomplished. The most comprehensive simulation within the Magneticum Pathfinder project pursues the development of a record number of 180 billion tiny spatial elements in a previously unreached spatial area of 12.5 billion light years. For the first time, a hydrodynamic cosmological simulation is large enough to be directly compared with large-scale astronomical surveys. 

Within modern cosmology, the Big Bang marks the beginning of the universe and the creation of matter, space and time about 13.8 billion years ago. Since then, the visible structures of the cosmos have developed: billions of galaxies which bind gas, dust, stars and planets with gravity and host supermassive black holes in their centres. But how could these visible structures have formed from the universe's initial conditions? 

To answer this question, we are carrying out cosmological simulations. They transform our knowledge about the physical processes forming our universe into mathematical models and simulate the evolution of our universe on high-performance computers over billions of years. 

As part of the Magneticum Pathfinder project, we performed a new, unique hydrodynamic simulation of the large-scale distribution of the universe's visible matter. The most recent results regarding the three most important cosmic ingredients of the universe are taken into account: dark energy, dark matter and visible matter. 

We incorporated a variety of physical processes in the calculations, among them three that are considered particularly important for the development of the visible universe: first, the condensation of matter into stars, second, their further evolution when the surrounding matter is heated by stellar winds and supernova explosions and enriched with chemical elements, and third, the feedback of supermassive black holes that eject enormous amounts of energy into the universe. 

The most comprehensive simulation (shown in the zoom-in image) covers the spatial area of a cube with a box size of 12.5 billion light years. Such a tremendously large section of the universe was never simulated before. It was divided into a previously unattained number of 180 billion resolution elements, each representing the detailed properties of the universe and containing about 500 bytes of information. 

The result of this simulation has been already used to calibrate the halo mass function (e.g. the theoretical predictions of how many objects with a certain, total mass exists in the universe at different times) and to explore the impact of the visible matter on such measurements, especially for future, high precision cosmological probes like eROSITA. Interestingly, the results from this study show that even for current observational studies like the one presented by the PLANCK satellite team, the large volume captured by the simulation allows to improve the quality of such predictions and seems to relax some tension which is present when comparing the observations from PLANCK to previous, theoretical predictions.


References:
Highlights
| | |
| --- | --- |
|   | Pair of galaxy clusters in a wide, warm web of gas |
| | Ausgerechnet! Unser Universum |
| | Gas perturbations reveal protoplanets |
|   | The central parsecs of the low-luminosity active galaxy NGC 1052: evidence for a truncated accretion disc |
|   |  A UNIQUE DATA CENTRE FOR COSMOLOGICAL SIMULATIONS |
| | Clusters of Small Clumps in High-Redshift Disk Galaxies |
| | Magneticum Pathfinder: The evolution of the universe in an unmatched extend |
| | The complex Interplay between Spin, Mass, and Morphology in Galaxies |
| | Magneticum sheds new light on recently discovered Fast Radio Bursts (FRBs) |
| | A Disk-Disk Major Merger Event in a  Cosmological Hydrodynamical Zoom-Simulation |
| | The formation of filamentary bundles in turbulent molecular clouds |
| | G2 modelled as a mass-losing source of gas |
| | Supernova-driven galactic winds |
| | The Dark Halo-Spheroid Conspiracy and the Origin of Elliptical Galaxies |
| | Phd Award 2012 of the Astronomische Gesellschaft |
| | CAST group outing 2012 |
| | Evolution of the Galactic Centre Cloud G2 |
| | Universe Cluster PhD Thesis Award 2011 |
| | Evolution of Molecular Clouds in Spiral Galaxies by Clare Dobbs |
| | Globular Clusters Black Hole Correlation by Andreas Burkert |
| | Cosmological Resimulations by Ludwig Oser |
| | Star Formation in the Galactic Centre by Christian Alig |
| | A New Model for the Antennae Galaxies by Simon Karl |
| | Simulating the Bullet Cluster by Chiara Mastropietro |
| | Triggered Star Formation by Matthias Gritschneder |
| | The Mystery of Sedna by Hagen Schulte in den Bäumen |
| | The Formation of Fossil Galaxy Groups in the hierarchical Universe by Elena D'Onghia |
| | Molecular Cloud Formation in Colliding Flows by Fabian Heitsch |
| | Comparison of hydro codes on planet-disk interaction problem by Pawel Ciecielag |
| | Orbital Structure of Galaxies in N-Body Simulations by Roland Jesseit |