by Klaus Dolag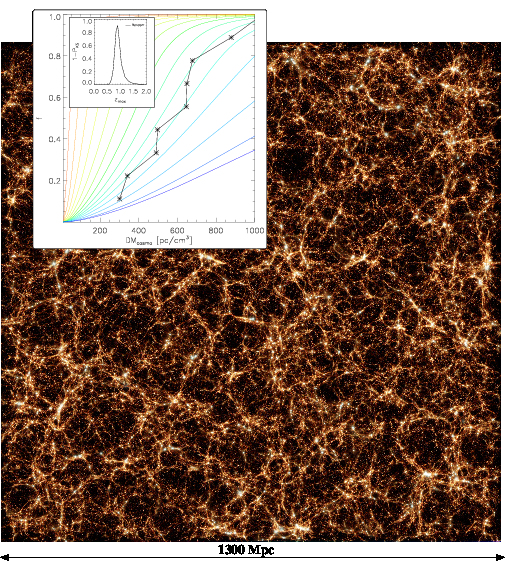 Fast radio bursts (FRBs) are a newly identified and as-yet-unexplained class of transient objects. The ten known FRBs currently in the literature are characterised by short (~ ms), bright (> 1 Jansky) bursts of radio emission; none have been seen to repeat, and all but two occurred at high Galactic latitude, |b| > 20°. The implied all-sky event rate is enormous, around 10000 per day. 
The radio signals from FRBs experience a frequency-dependent dispersion delay as they propagate through ionised gas, just as is routinely seen for radio pulsars. However, for most observed FRBs, the very high dispersion measures (DMs), in the range 400-1100 pc cm-3, are more than an order of magnitude larger than the DM contribution expected from the interstellar medium (ISM) of the Milky Way in these directions. 
We have used the Magneticum set of cosmological hydrodynamic simulations to investigate the contribution from cosmological large-scale structure and found that the foreground-subtracted DMs are consistent with a cosmological origin, corresponding to a source population observable to a maximum redshift z ~ 0.6-0.9. We considered models for the spatial distribution of FRBs in which they are randomly distributed in the Universe, track the star-formation rate of their host galaxies, track total stellar mass, or require a central supermassive black hole. Current data do not discriminate between these possibilities, but the predicted DM distributions for different models will differ considerably once we begin detecting FRBs at higher DMs and higher redshifts. We additionally consider the distribution of FRB fluences, and showed that the observations are consistent with FRBs being standard candles, each burst producing the same radiated isotropic energy. The data imply a constant isotropic burst energy of ~ 7×1040 erg if FRBs are embedded in host galaxies, or ~ 9×1040 erg if FRBs are randomly distributed. These energies are one to two orders of magnitudes larger than had previously been inferred. Within the constraints of the available small sample of data, our analysis favours FRB mechanisms for which the isotropic radiated energy has a narrow distribution in excess of 1040erg. 
Constraints on the distribution and energetics of fast radio bursts using cosmological hydrodynamic simulations
Dolag, Gaensler, Beck & Beck: MNRAS submitted


Highlights
| | |
| --- | --- |
|   | Pair of galaxy clusters in a wide, warm web of gas |
| | Ausgerechnet! Unser Universum |
| | Gas perturbations reveal protoplanets |
|   | The central parsecs of the low-luminosity active galaxy NGC 1052: evidence for a truncated accretion disc |
|   |  A UNIQUE DATA CENTRE FOR COSMOLOGICAL SIMULATIONS |
| | Clusters of Small Clumps in High-Redshift Disk Galaxies |
| | Magneticum Pathfinder: The evolution of the universe in an unmatched extend |
| | The complex Interplay between Spin, Mass, and Morphology in Galaxies |
| | Magneticum sheds new light on recently discovered Fast Radio Bursts (FRBs) |
| | A Disk-Disk Major Merger Event in a  Cosmological Hydrodynamical Zoom-Simulation |
| | The formation of filamentary bundles in turbulent molecular clouds |
| | G2 modelled as a mass-losing source of gas |
| | Supernova-driven galactic winds |
| | The Dark Halo-Spheroid Conspiracy and the Origin of Elliptical Galaxies |
| | Phd Award 2012 of the Astronomische Gesellschaft |
| | CAST group outing 2012 |
| | Evolution of the Galactic Centre Cloud G2 |
| | Universe Cluster PhD Thesis Award 2011 |
| | Evolution of Molecular Clouds in Spiral Galaxies by Clare Dobbs |
| | Globular Clusters Black Hole Correlation by Andreas Burkert |
| | Cosmological Resimulations by Ludwig Oser |
| | Star Formation in the Galactic Centre by Christian Alig |
| | A New Model for the Antennae Galaxies by Simon Karl |
| | Simulating the Bullet Cluster by Chiara Mastropietro |
| | Triggered Star Formation by Matthias Gritschneder |
| | The Mystery of Sedna by Hagen Schulte in den Bäumen |
| | The Formation of Fossil Galaxy Groups in the hierarchical Universe by Elena D'Onghia |
| | Molecular Cloud Formation in Colliding Flows by Fabian Heitsch |
| | Comparison of hydro codes on planet-disk interaction problem by Pawel Ciecielag |
| | Orbital Structure of Galaxies in N-Body Simulations by Roland Jesseit |