by Adelheid Teklu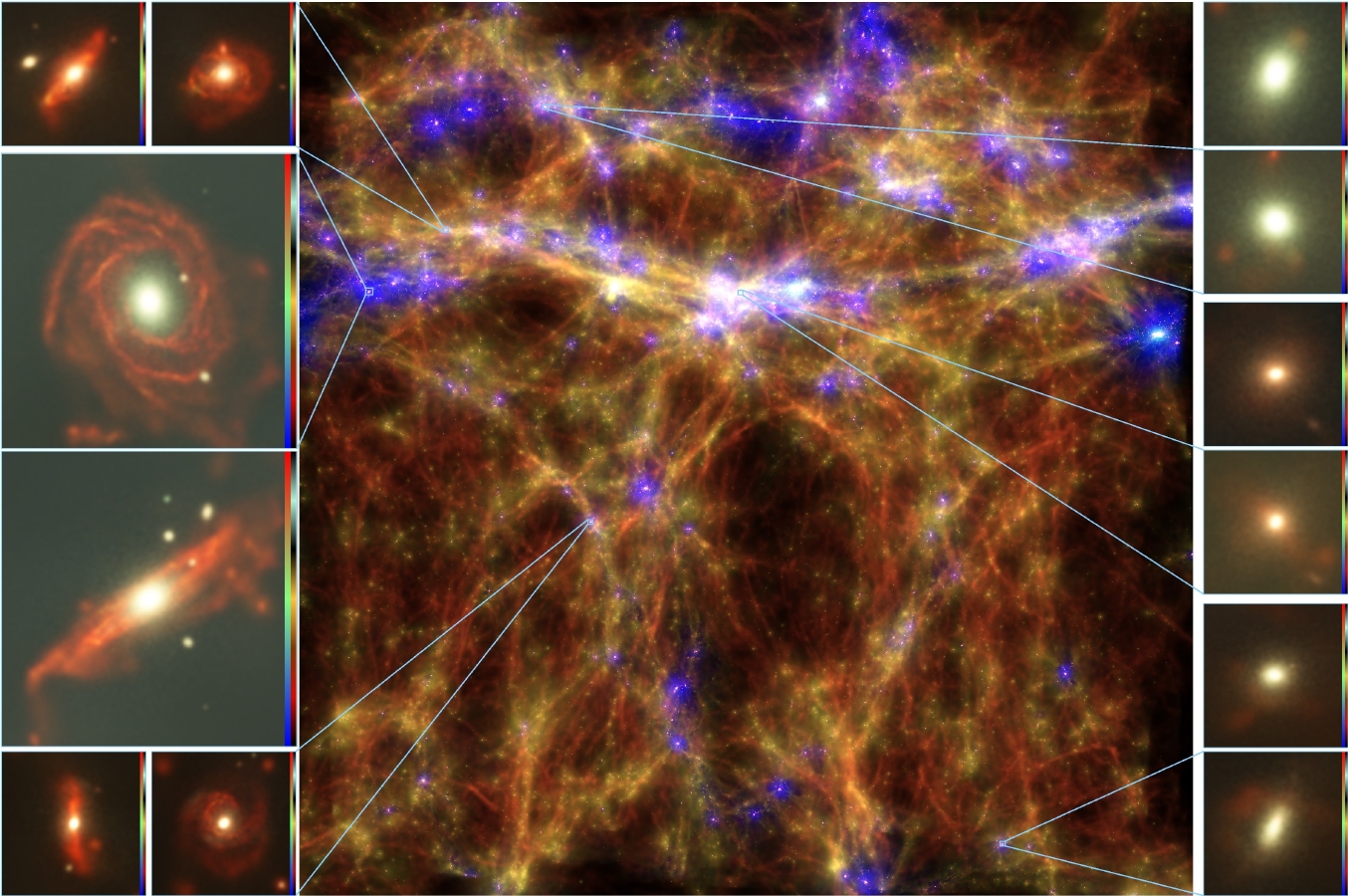 The evolution and distribution of the angular momentum of dark matter halos have been discussed in several studies over the last decades. In particular, the idea arose that angular momentum conservation should allow to infer the total angular momentum of the entire dark matter halo from measuring the angular momentum of the baryonic component, which is populating the center of the halo, especially for disk galaxies. 
To test this idea and to understand the connection between the angular momentum of the dark matter halo and its galaxy, we use the Magneticum set of cosmological hydrodynamic simulations and extracted in total more than 2000 individual galaxies at different redshifts from the high resolution run of Box4. For each galaxy we could investigate the properties of the different constituents: the dark matter, the stars as well as the hot and the cold gas-phase. 
The simulations successfully produce populations of spheroidal and disk galaxies self-consistently. Moreover, the specific angular momentum of stars in disk and spheroidal galaxies as function of their stellar mass compares very well with observational findings. The specific angular momentum of the stars in disk galaxies is slightly smaller compared to the specific angular momentum of the cold gas, again in good agreement with observations. 
Thus, we are able to study the dependence of general halo properties on the morphology of the hosted galaxies. Interestingly, we found that simulations including the baryonic component show a dichotomy in the specific stellar angular momentum distribution when splitting the galaxies according to their morphological type. This dichotomy can also be seen in the spin parameter, where disk galaxies populate halos with slightly larger spin compared to spheroidal galaxies. We also found that disk galaxies preferentially populate halos in which the angular momentum vector of the dark matter component in the central part shows a better alignment with the angular momentum vector of the entire halo. Finally, we could prove that the specific angular momentum of the cold gas in disk galaxies is approximately 40 percent smaller than the specific angular momentum of the total dark matter halo and shows a significant scatter. 
Connecting Angular Momentum and Galactic Dynamics: The complex Interplay between Spin, Mass, and Morphology
Teklu, Remus, Dolag, Beck, Burkert, Schmidt, Schulze & Steinborn: ApJ submitted
Highlights
| | |
| --- | --- |
|   | Pair of galaxy clusters in a wide, warm web of gas |
| | Ausgerechnet! Unser Universum |
| | Gas perturbations reveal protoplanets |
|   | The central parsecs of the low-luminosity active galaxy NGC 1052: evidence for a truncated accretion disc |
|   |  A UNIQUE DATA CENTRE FOR COSMOLOGICAL SIMULATIONS |
| | Clusters of Small Clumps in High-Redshift Disk Galaxies |
| | Magneticum Pathfinder: The evolution of the universe in an unmatched extend |
| | The complex Interplay between Spin, Mass, and Morphology in Galaxies |
| | Magneticum sheds new light on recently discovered Fast Radio Bursts (FRBs) |
| | A Disk-Disk Major Merger Event in a  Cosmological Hydrodynamical Zoom-Simulation |
| | The formation of filamentary bundles in turbulent molecular clouds |
| | G2 modelled as a mass-losing source of gas |
| | Supernova-driven galactic winds |
| | The Dark Halo-Spheroid Conspiracy and the Origin of Elliptical Galaxies |
| | Phd Award 2012 of the Astronomische Gesellschaft |
| | CAST group outing 2012 |
| | Evolution of the Galactic Centre Cloud G2 |
| | Universe Cluster PhD Thesis Award 2011 |
| | Evolution of Molecular Clouds in Spiral Galaxies by Clare Dobbs |
| | Globular Clusters Black Hole Correlation by Andreas Burkert |
| | Cosmological Resimulations by Ludwig Oser |
| | Star Formation in the Galactic Centre by Christian Alig |
| | A New Model for the Antennae Galaxies by Simon Karl |
| | Simulating the Bullet Cluster by Chiara Mastropietro |
| | Triggered Star Formation by Matthias Gritschneder |
| | The Mystery of Sedna by Hagen Schulte in den Bäumen |
| | The Formation of Fossil Galaxy Groups in the hierarchical Universe by Elena D'Onghia |
| | Molecular Cloud Formation in Colliding Flows by Fabian Heitsch |
| | Comparison of hydro codes on planet-disk interaction problem by Pawel Ciecielag |
| | Orbital Structure of Galaxies in N-Body Simulations by Roland Jesseit |