Leader of the Computational Astrophysics (CAST) group

Andreas Burkert




Nature of dark matter
Formation of galaxies
Active Galactic Nuclei
Structure and dynamics of the interstellar medium
Formation of turbulent molecular clouds, stars and stellar clusters
Planet formation

 
Scientific Staff

Klaus Dolag

 

 

Magnetic Fields
Cosmology
Clusters of Galaxies

 
Leader of the Planet and Star Formation group

Barbara Ercolano




Protoplanetary discs and planet formation
Star formation and stellar feedback
Dust production by Supernovae
The structure, ionisation and chemistry of the Interstellar medium
Radiative transfer techniques.

 
Leader of the Planet Formation group

Tilman Birnstiel




| | | |
| --- | --- | --- |
|   | phone: | +49 89 2180 6973 |
|   | email: | til.birnstiel[at]lmu.de |
|   | office:  | USM  |
|   |   | homepage |

Protoplanetary discs and planet formation

 
 
 
Leader of the Galaxies and Dark Matter group

Ben Moster




Empirical Galaxy Formation Models

Subhalo Abundance Matching

Hydrodynamical Simulations

Dark Matter

Cosmology

 
Postdocs

Christian Alig

| | | |
| --- | --- | --- |
|   | phone: | +49 2180 5991  |
|   | email: | alig[at]usm.lmu.de  |
|   | office:  | USM E24 |
|   |   | publications |

Numerical Simulations of the formation and evolution of turbulent gaseous discs and rings inside galactic centres.

Manuel Behrendt

 The Formation and Evolution of Star-Forming Galaxies at High-Redshift

Veronica Biffi

| | | |
| --- | --- | --- |
|   | phone: | +49 2180 6968  |
|   | email: | biffi[at]usm.lmu.de |
|   | office:  | USM 005A (E10) |
|   |   | publications |

 

- Baryon census from galaxy clusters down to galaxies
- Simulations of galaxy clusters, X-ray synthetic observations  

Matias Blaña

Stellar and galactic dynamics, Barred galaxies, Andromeda (M31), Dwarf spheroidal galaxies, Star clusters, N-body simulations, Made-to-measure modelling.

Aura Obreja





Galaxy Formation Simulations, Synthetic Observations

Rhea-Silvia Remus

The Evolution of Galaxies in Groups; the Outer Structure of Elliptical Galaxies and their Dark Matter Halos.

Marc Schartmann

| | | |
| --- | --- | --- |
|   | phone: | +49 89 30000-3319 |
|   | email: | mschartm[at]mpe.mpg.de  |
|   | office:  | MPE X2/364 |
|   |   | publications |

 Hydrodynamical and radiative transfer simulations of (Active) Galactic Nuclei

Sebastian Stammler

| | | |
| --- | --- | --- |
|   | phone: |   |
|   | email: | stammler[at]usm.lmu.de  |
|   | office:  | USM  |
|   |   |   |

 

Adelheid Teklu

| | | |
| --- | --- | --- |
|   | phone: | +49 2180 6968  |
|   | email: | ateklu[at]usm.lmu.de  |
|   | office:  | USM 005A (E10) |
|   |   | publications |

Formation of extended gas disks in cosmological simulations 

Milena Valentini

| | | |
| --- | --- | --- |
|   | phone: | +49 2180 6968  |
|   | email: | valentini[at]usm.lmu.de  |
|   | office:  | USM 005A (E10) |
|   |   | publications |

 

- Galaxy formation and evolution

- Stellar and AGN feedback

- Cosmological hydrodynamical simulations
Graduate Students

Matías Gárate

 

| | | |
| --- | --- | --- |
|   | phone: |   |
|   | email: | mgarate[at]usm.lmu.de  |
|   | office:  | USM  |
|   |   |   |

 

Stefan Heigl




| | | |
| --- | --- | --- |
|   | phone: | +49 89 2180 5970  |
|   | email: | heigl[at]usm.lmu.de |
|   | office:  | USM E01  |
|   |   | publications |

Simulations of fragmentation in filaments

Elena Hoemann



| | | |
| --- | --- | --- |
|   | phone: | +49 89 2180 6029  |
|   | email: | hoemann[at]usm.lmu.de |
|   | office:  | USM 120 (I25)  |
|   |   |   |

Dynamics of the filamentary ISM

Joseph O'Leary



| | | |
| --- | --- | --- |
|   | phone: |  +49 89 2180 5981 |
|   | email: | joleary[at]usm.lmu.de  |
|   | office:  | USM E16 |

Empirical galaxy formation models at high-redshift, merger rates, supernova rates

Marcel Lotz

 

| | | |
| --- | --- | --- |
|   | phone: | +49 89 2180 5979  |
|   | email: | mlotz[at]usm.lmu.de |
|   | office:  | USM  |
|   |   | publications |

 Anisotropies in galaxy clusters

Felix Schulze




| | | |
| --- | --- | --- |
|   | phone: | +49 89 2180 6968  |
|   | email: | fschulze[at]usm.lmu.de  |
|   | office:  | USM E10 |
|   |   | publications |

Kinematics of early type galaxies in cosmological simulations.

Ulrich Steinwandel




| | | |
| --- | --- | --- |
|   | phone: | +49 89 2180 5990  |
|   | email: | usteinw[at]usm.lmu.de  |
|   | office:  | USM E01 |
|   |   | publications |

Galaxy formation at high-redshift, supernova feedback, formation of black holes

Martin Zintl

| | | |
| --- | --- | --- |
|   | phone: | +49 2180 6968  |
|   | email: | zintl[at]usm.lmu.de  |
|   | office:  | USM E24 |
|   |   | publications |

SPH simulations with GPU

Apostolos Zorbas

| | | |
| --- | --- | --- |
|   | phone: |   |
|   | email: | zormpas[at]usm.lmu.de  |
|   | office:  | USM  |
|   |   |   |

 
Undergraduate Students

Ludwig Böss

 

| | | |
| --- | --- | --- |
|   | phone: |  +49 89 2180 5979 |
|   | email: | lboess[at]usm.lmu.de |
|   | office:  | USM E11 |

 MHD Simulations of Cosmic Rays in Galaxy Clusters

Paul Hinz

 

| | | |
| --- | --- | --- |
|   | phone: |  +49 89 2180 5979 |
|   | email: | phinz[at]usm.lmu.de |
|   | office:  | USM E11 |

Update of the GADGET Code with a new Meshless Finite Mass (MFM) algorithm for the hydrodynamics and testing of the implications on structure formation

Michael Kastl

 

| | | |
| --- | --- | --- |
|   | phone: |  +49 89 2180 5981 |
|   | email: | mkastl[at]usm.lmu.de  |
|   | office:  | USM  |

 

Maximillian Kühn

 

| | | |
| --- | --- | --- |
|   | phone: |  +49 89 2180 5979 |
|   | email: | mkuehn[at]usm.lmu.de  |
|   | office:  | USM E11 |

 

Kinematics of BCG's in cool core and non-cool core clusters
 

Alexander Arth

Performing MHD simulations with Tree-PM/SPH Code Gadget. Implementing anisotropic conduction to improve simulations of galaxy cluster formation.

Jaime Abella Payá

Simulations of clumps in z~2 galaxies with stellar feedback

Michael Aumer

High-redshift galactic disk formation and structure

Alessandro Ballone

Stellar winds in Galactic Nuclei; the galactic center cloud G2
 

Eirini Batziou

The Interplay of magnetic fields and and star formation processes in galaxies using SPMHD simulations. 

Antonia Bevan

Protoplanetary discs around young stars.

Adrian Bittner

Disk galaxies in cosmological zoom-in simulations

Max Brunner

Self-regulated star formation in and evolution of galactic disks, including as infall from the cosmic web

Pawel Ciecielag

Planets formation: planetesimals accretion, gas drag, disk-planet interaction; Cosmology: large scale velocity fields, density-velocity comparisions; Numerical methods: direct n-body (Nbody4++ code, special purpose hardware - GRAPE), hydro (PPM, AMR, FLASH code).

James Dale

3-D SPH simulations of the effects of stellar feedback, particularly photionization and stellar winds, on star-forming molecular clouds, to investigate the likelihood of triggered star formation and to evaluate the disruptive effect of feedback on embedded clusters.

Clare Dobbs

Molecular cloud formation in spiral galaxies. Formation of spiral galaxies.

Elena D'Onghia

Galaxy and Structure Formation, the nature of dark matter, galaxy evolution, groups of galaxies.

Julius Donnert

On the non-thermal emission in galaxy clusters 
Supervisors: Klaus Dolag, Harald Lesch

Franziska Eisner

Differences between observations and simulations of metallicities in galaxies

Bernat Ferrer

 

Katharina Fierlinger

Interaction of massive star groups with the ISM: hydro models for radioactive tracers in the Orion Eridanus Superbubble. Codes: RAMSES
 

Pascal Förster

 Satellite galaxies in large-scale cosmological simulations; Turbulence in SPH
 

Michael Frühauf

 Asteroids, Near-Earth Objects, Impact Avoidance

Wolfgang von Glasow

Galactic Winds: launching galactic outflows and feedback processes

Matthias Gritschneder

Photoionisation in the environment of young, massive stars. Study of triggered star formation in proximity to these efficient ionisation sources. Numerical methods: SPH + Ionisation, VINE.

Sebastian Hammer

Simulations of collisions between gas clouds and disk galaxies

Helmut Hetznecker

Large scale structure formation, structure of dark matter halos, dwarf galaxies in dark matter halos

Michael Hilz

Binary black hole mergers in galaxies (VINE code)

Michaela Hirschmann

Origin of the anti-hierarchical growth of black holes in the universe
 

David Hubber

Developing the Graphical Astrophysics code for N-body Dynamics And Lagrangian Fluids (GANDALF) primarily designed for investigating star formation and planet formation.

Francesca Iannuzzi

Studying the survival of galaxies in hydrodynamical simulations of clusters
Supervisors: Klaus Dolag, Simon White

Martin Ilgner

Photoionisation models of the ISM, Chemistry and dynamics of protoplanetary discs

Roland Jesseit

Orbital theory, stellar dynamics, galaxy formation, physics of dark matter halos.

Peter Johansson

Galaxy and structure formation, analytic and numerical modelling of feedback, modelling of galaxy populations.

Veronika Junk

Formation and dynamics of galaxy substructure; problem of the missing satellites.

Simon Karl

Galaxy mergers with respect to the growth of central black holes (VINE code)

Geray Karademir

Cosmological zoom-in simulations with a focus on galaxy groups 

Madhura Killedar

Testing galaxy cluster mass measurement techniques with numerical simulations and triaxial mass models, weak and strong gravitational lensing, cosmology, Bayesian inference and regression methods

Manuel Ködel

HI-Gas dynamics of galaxies and galaxy clusters in the cosmological simulation Magneticum

Christine Maria Koepferl

Protoplanetary discs around young stars.

Hanna Kotarba

With Prof. Harald Lesch: Magnetic field evolution in isolated and interacting spiral galaxies. Numerical methods: N-body/SPH (GADGET)

Martin Krause

Radiation hydrodynamics at opacity transitions; Energy transport in molecular tori. The role of activity in galaxy evolution, multiphase turbulence, astrophysical jets, magnetic fields in galaxy clusters (SKADS)

Bernd Lang

Formation of stars, Turbulence, Accretion Disks, Prestellar Cores and Molecular Clouds, Radiative Transfer.

Guang-Xing Li

Connecting theoretical and observational star formation study. Studying the structure of molecular clouds using the G-viral method.

Chiara Mastropietro

 
 

Emilio Mevius

Metallicity in cosmological simulations

Georg Michna

TBD

Nickolas Moeckel

Hydrodynamics and stellar dynamics of young star clusters and star forming regions. The interplay between stellar and planetary dynamics.

Birgitta Müller

The Structure of Cold Dark Matter Halos

Thorsten Naab

 

Judith Ngoumou

Massive star feedback and triggered star formation

Eva Ntormousi

Molecular cloud formation in colliding flows

Ludwig Oser

The formation of the Hubble Sequence (GADGET code)

Go Ogiya

Dynamical structure of dark matter halos, Small-scale problems of cold dark matter cosmology, GPGPU

Beata Pasternak

Non-thermal emission from galaxy clusters - evolution of cosmic rays in merging galaxy clusters.

 

Stephanie Pekruhl

with Prof. Th. Preibisch: Observations & Simulations of Molecular Cloud Structure
 
 
 

Antonio Ragagnin

Cosmological Simulations

Daniel Rahner

Formation of fast rotating elliptical galaxies by multiple minor mergers.

Lennart Reb 

Modelling the Spectral Energy Distribution of Low Luminosity Active Galactic Nuclei

Francesco Rizzuto

Empirical galaxy formation models with warm dark matter 

Giovanni Rosotti

SPH simulations of accretion disc, both protoplanetary discs, to evaluate the effect of X-ray photoionization on the evolution of the disc, and discs around supermassive black holes.

Anna Schauer

Planetary Nebulae as tracers in Elliptical Galaxies

David Schlachtberger

The Origin of Cold Gas in Elliptical Galaxies: Zoom-in Simulations with Gadget3
 

Philipp Schneider

Early phases of star formation - velocity and density structure of filaments in turbulent molecular clouds.

Florian Semrau

 

Federico Stasyszyn

Smoothed particle magneto-hydro-dynamics for cosmological applications
Supervisors: Klaus Dolag, Simon White

Lisa Steinborn

Active Galactic Nuclei in cosmological simulations 

Jens Stücker

Investigation of structure formation with warm dark matter in high resolution simulations

Stefanie Walch

Star formation with emphasis on the formation of protostellar disks, evolution and fragmentation of protoplanetary disks and the evolution of their spectral energy distributions. Numerical Methods: Grid-AMR: FLASH code; SPH: VINE code

Markus Wetzstein

Galaxy interactions / mergers, structure formation in the tidal arms of merging galaxies, formation of tidal dwarf galaxies, numerical methods for N-body / SPH (smoothed particle hydrodynamics) simulations, the VINE simulation code, special purpose hardware GRAPE for the computation of gravitational forces, implementation of the SPH algorithm on an FPGA (field programmable gate array) based special purpose hardware.
CAST Group Outing in Prien/Chiemsee, October 2019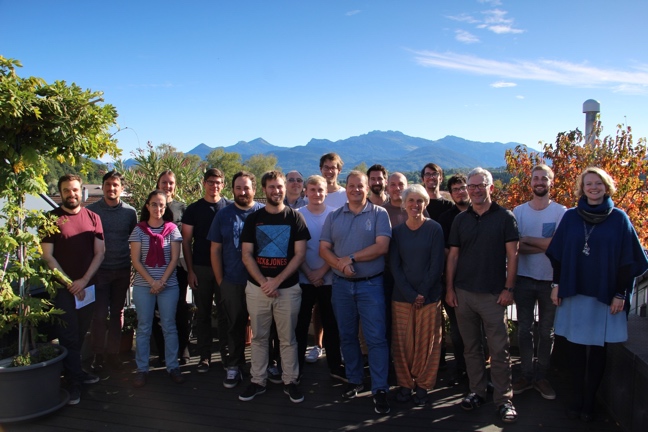 ---
CAST Group Outing in Überlingen (Bodensee) , April 2018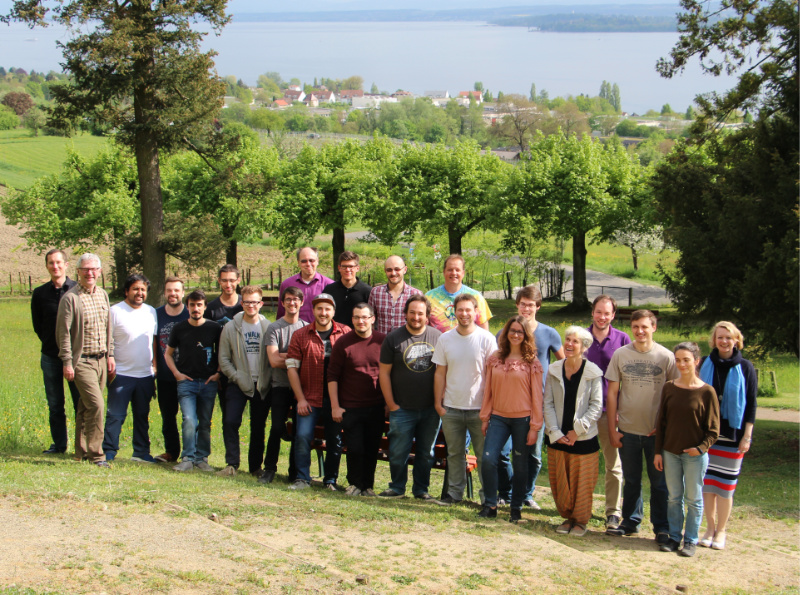 ---
CAST Group Outing in Oberstdorf (Allgäu) , April 2017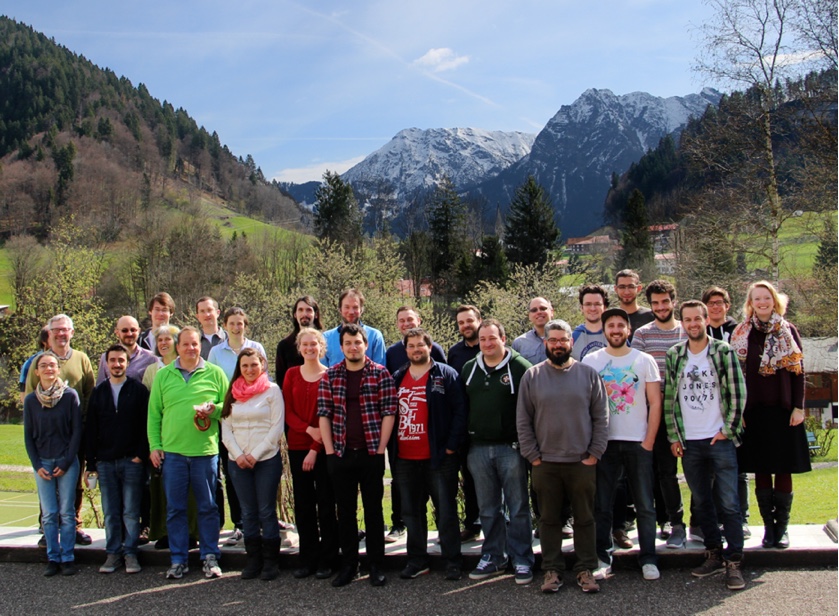 ---
CAST Group Outing on the Wendelstein, March 2016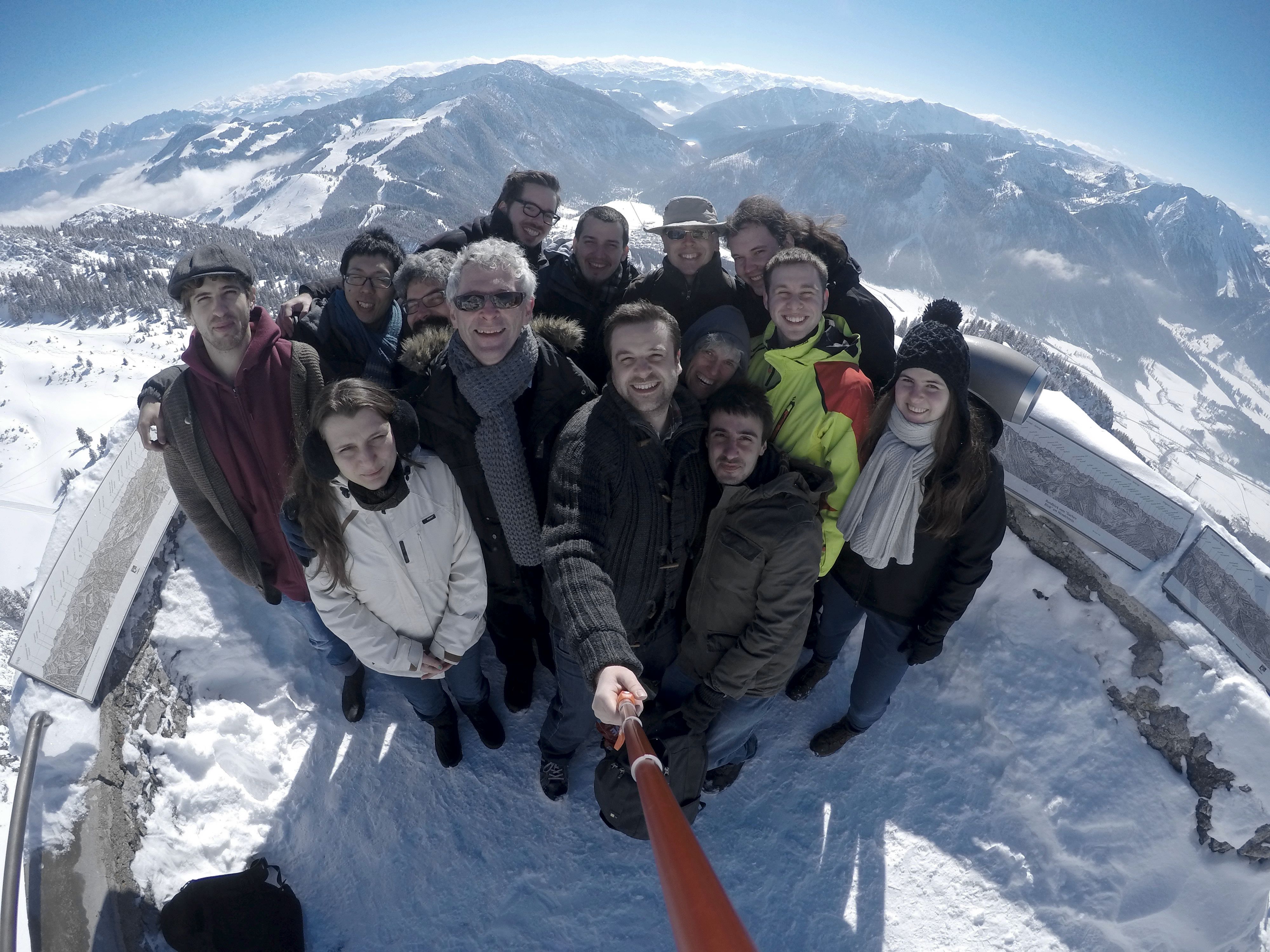 ---
CAST Group Outing Eibsee, April 2015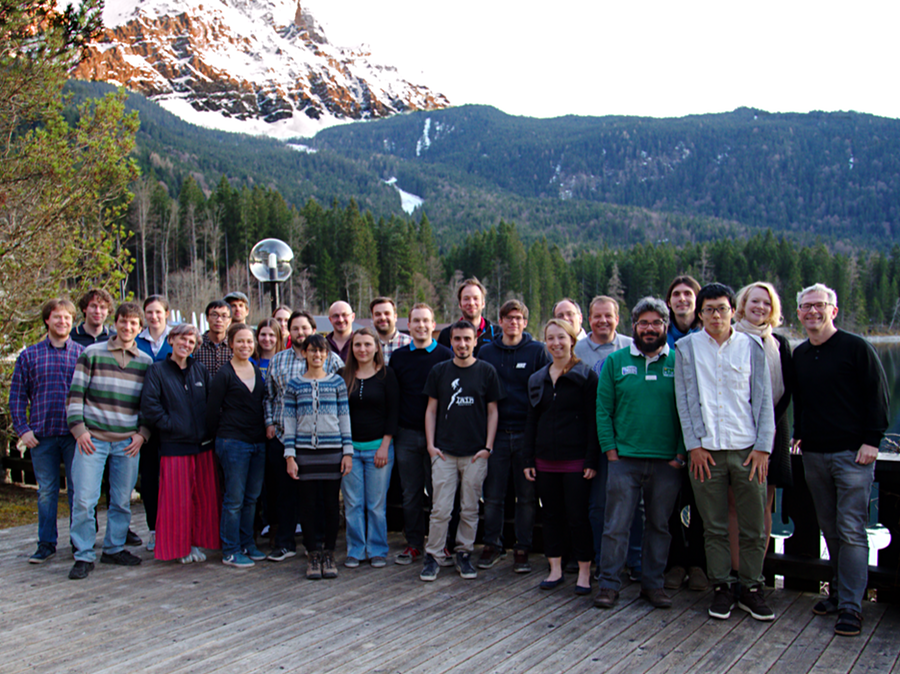 ---
CAST Group Outing Hamburg, March 2013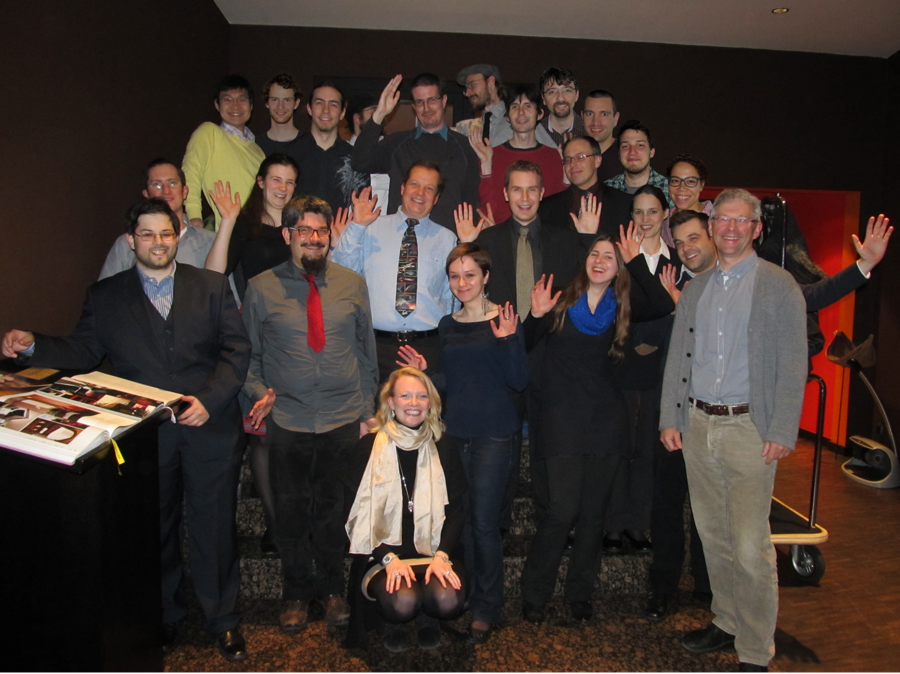 ---
CAST Group Outing in Garmisch, 2012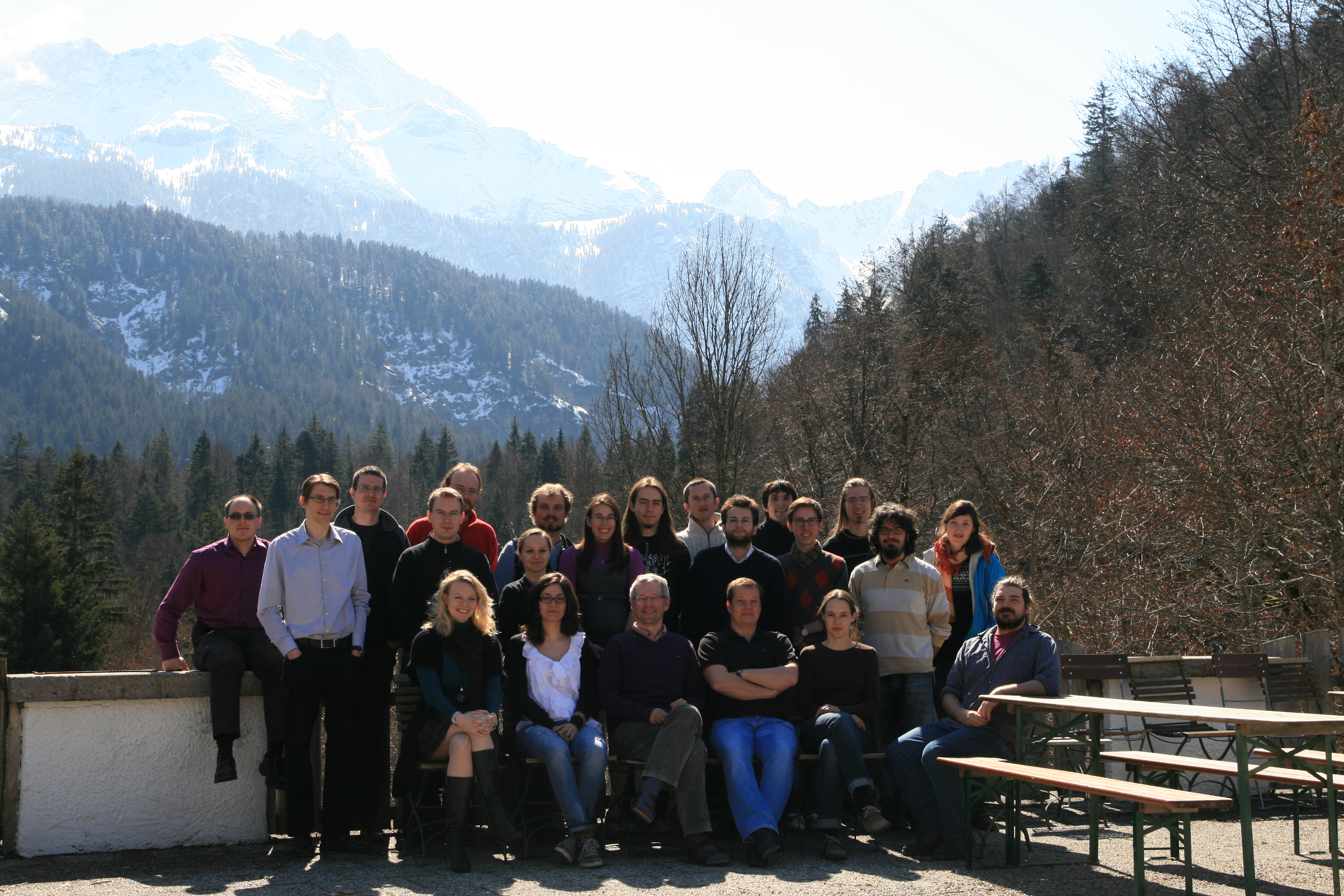 ---
USM, January 2011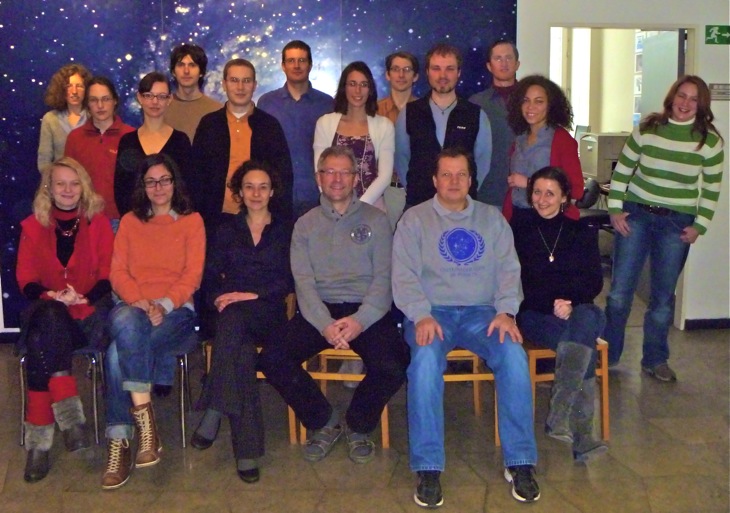 ---
USM, May 2007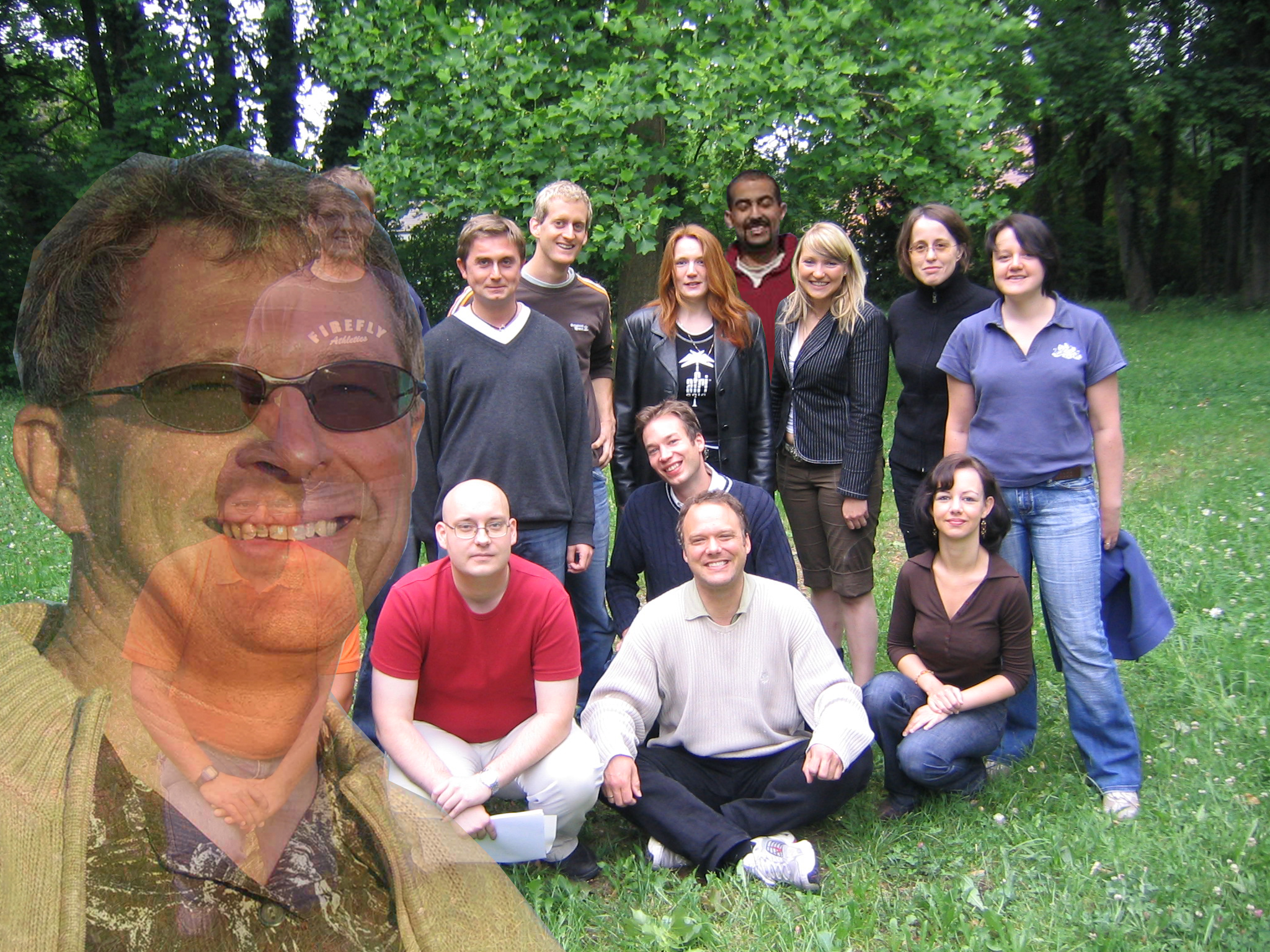 Visitors
 

Diego Calderón

February 2018 - December 2018, from: Instituto de Astrofísica, PUC, Chile

- Gas dynamics in the Galactic Centre

- Stellar wind collisions

 

Doug Lin

9.-12. April 2018, from: Astronomy & Astrophysics Department, UC Santa Cruz, USA

 

Celine Tchernin

2.-4. May 2018, from: Institut für Theoretische Astrophysik, University of Heidelberg, Germany

 

Lee Hartmann

21.-27. May 2018, from: Department of Astronomy, University of Michigan, USA

 

Sabine Bellstedt

10.-29. June 2018, from: Centerfor Astrophysics and Supercomputing, Swinburne University of Technology, Australia

 

Duncan Forbes 

17.-29. June 2018, from: Centerfor Astrophysics and Supercomputing, Swinburne University of Technology, Australia
 

Julius Donnert 

 

2.-6. July 2018, from: IRA Bologna, Italy and the University of Minnesota, USA
 

Jorge Cuadra

4. July - 8. August 2018, from P. Universidad Católica de Chile
 

Conrad Tristram

25. July - 11. August 2018, from ESO in Santiago, Chile
 

Kelly Blumenthal

October 2018, Center For Astrophysics, Harvard University, USA
 

Marvin Blank

October 2018, New York University Abu Dhabi
 

Chris Russell

15-28. October 2018, Pontificia Universidad Católica de Chile, Santiago
 

Keiichi Wada

15-28. October 2018, Kagoshima University, Japan
 

Luigi Bassini

5.-16. November 2018, INAF Trieste, Italy