DFG Priority Program 1573
The Interstellar Medium
Splinter Meeting J

Annual Meeting of the Astronomische Gesellschaft,
Bamberg, September 22-26, 2014
"The variable sky: From tiny variations to big explosions"
A characteristic property of the interstellar medium is its astonishing dynamics: turbulent high average density regions ('clouds') form, for example by converging flows, and disperse again due to energy release from stars. Even on the largest scales, significant inflows and outflows of often multi-phase gas is observed, and essential to explain the amount of gas in galaxies, or enriched gas outside galaxies. Since it is partly ionised, magnetic fields are amplified by the dynamics. The dynamics is also vital for the mixing of freshly ejected metals into all the phases of the interstellar medium. The entire electromagnetic spectrum contributes and time-dependent simulations are required to interpret the data. This splinter meeting will focus on recent developments in the area of interstellar medium research.
Program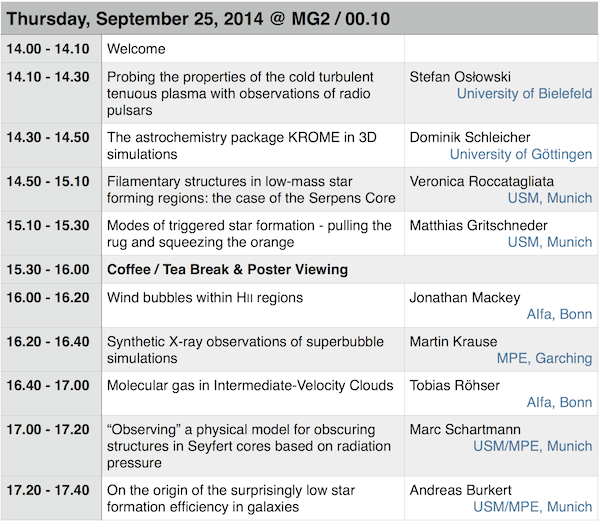 There will be a general poster exhibition in the foyer of the lecture hall M3N /02.27.
Registration
Registration is open now and needs to be done via the following webpage:
http://www.black-hole.eu/index.php/ag2014/registration
Accomodation
Early hotel registration is recommended, because Bamberg is a very touristic place. You can find more information about hotel booking at
http://www.black-hole.eu/index.php/ag2014/accommodation
Graduate student support
The AG maintains a promotion fund to support the attendance of graduate students who do not have a full-time position. Applications can be filed to the treasurer of the AG by any AG member not later than 8-Aug-2014. You can find the official advertisement here:
http://www.astronomische-gesellschaft.de/en/die-ag/foerderung
and can download the application form
http://www.astronomische-gesellschaft.de/en/die-ag/foerderung/pdf/Reisekostenbeihilfe.pdf
Convenors
Andreas Burkert, Roland Diehl, Matthias Gritschneder, Martin Krause, Marc Schartmann
Contact
Please contact the convenors via
splinterj[at]ism-spp.de
Date
Thursday, Sept. 25, 14:00 - 18:00
If you would like to take part in the splinter meeting "Interstellar Medium", please let us know not later than 31-Aug-2014.
Summary of important links:

This priority program is funded by the
German Research Foundation DFG
.